These blind students in 1918 were able to use their talents, an opportunity not afforded elsewhere.
At Advancing Opportunities, we excel in providing residential and respite services to people of with all disabilities, along with advocacy and education services for parents and guardians and assistive technology support. As a leader in the field, we are pleased to share our experience, knowledge, and expertise with the disability community through our social media outlets: Facebook, Twitter, YouTube, Google+, LinkedIn, and Pinterest. In our Disability and Ability Highlights of the Week column, we will select the best of what we found and shared and present them. Please click on the titles with embedded links to find the full article.
Please stop by our website, http://advopps.org/, and find out all we have to offer. In addition, we are specialists in the area of assistive technology and offer a huge array of services; the Assistive Technology Center is New Jersey's premier source of information and equipment.
Advancing Opportunities job announcement of the week:
We're hiring!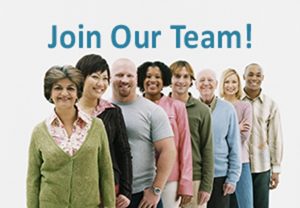 Advancing Opportunities has immediate openings for part-time Direct-Support Professionals in residential care programs throughout New Jersey. In April, we will be holding job fairs on the following days, from 10:00 a.m. to 3:00 p.m., as follows:
Thursday, April 20. Parsippany. Family Resource Network, 322 U.S. Hwy. 46 W., Ste. 290, Parsippany, NJ
Tuesday, April 25. Marlboro. Marlboro Free Public Library, 1 Library Ct., Marlboro, NJ
Advancing Opportunities provides supports to individuals with disabilities and their families, so they can live fully in the community.
Our team includes a diverse collection of men and women committed to treating the people and families we serve with dignity and respect and providing the highest quality services and supports.
Employees of the agency enjoy paid training and an excellent array of benefits, including health care and dental benefits for all eligible full-time staff and a 401(k) retirement plan for all eligible employees.
If you are unable to make it to one of the job fair open houses, you can also visit us online, at: http://advopps.org/careers/
Advancing Opportunities news:
In our quest to become New Jersey's best-known and most trusted organization for people with disabilities, we at Advancing Opportunities held an important professional seminar. The Assistive Technology Services team on Wednesday, March 22, hosted its first Implementation Workshop on Supporting Adults with Neurogenic Communication Disorders. Eight Assistive Technology professionals learned about the role and purpose of Augmentative and Alternative Communication (AAC) for adults with these disabilities. The professional workshop took place from 9:00 a.m. to 3:30 p.m. Presenting the workshop were Holly Schneider of the Tobii Dynavox Clinical Training and Carroll Stone, Education Team and Regional Consultant. Tobii Dynavox is a well-established manufacturer of assistive technology devices that enable people who cannot communicate verbally to express themselves, a critically important part of independence. The Assistive Technology Center has several models that consumers can borrow to evaluate.
"The Implementation Workshop was very informative," said Karen Gliniecki, Augmentative Communication Specialist, the Advancing Opportunities team member present at the workshop. "We had good representation of speech and language pathologists from a variety of employment settings: school districts, home health, and hospitals."
Disability in the news (mostly in New Jersey, the population we serve):
The New Jersey Division of Developmental Disabilities has made an important announcement regarding Fee for Service and the Comprehensive Assessment Tool.
Special Education:
Article by autism expert and advocate Barry Prizant: "Speech & Language Pathologists and Autism"
Advocacy and self-advocacy:
These Women are Bringing Disabilities Education to YouTube: People with invisible disabilities must make their disabilities visible to gain the respect that is rightfully theirs.
Assistive technology:
Players with disabilities are employing innovative hardware and software hacks to get in the game.
Assistive technology is for gardeners, too!
An amazing assistive technology device enables an artist to create her art and express herself.
Informative, positive, noteworthy (or all three!):
"Disability isn't a bad thing, but keeping silent is." A courageous teen accepts life, so people accept him.
A father's love for his unborn daughter has inspired a 26.2-mile run through the streets of Boston and raised tens of thousands of dollars for people with Down syndrome.
Disability awareness and appreciation:
An autistic blogger reflects on her autism. "I am autistic, and that is not a good thing. It's not a bad thing either. It's an absolutely neutral thing. It's a thing.""I am autistic, and that is not a good thing. It's not a bad thing either. It's an absolutely neutral thing. It's a thing."
New York Times piece: "Seeing Outside the Disability Box"
Medical news – research:
Parent-mediated therapy may help babies at risk of developing autism .
A possible new treatment for cystic fibrosis has been uncovered.
Animals and animal therapy:
Cesar and Andre visit a school to see the positive impact that dogs have on children with autism.